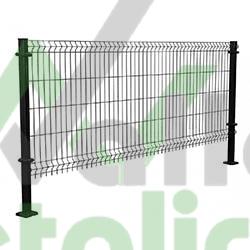 hercules_metal fencesThe HERCULES fence model is made up of an electrowelded mesh panel made of galvanized rod. Later it can be covered with a polyester treatment to improve its finish and its duration.
It consists of 2 to 5 longitudinal "V" shaped reinforcing folds that considerably improve its structure, increasing its rigidity over its entire surface.
Finally, 3 centimeters of each rod protrude from the upper part in order to make it difficult for it to be jumped by malicious people.
With all these characteristics, the Hercules fence is an excellent option for closing land with different characteristics, obtaining a superior, modern and homogeneous finish.
Applications: It is normally used in parks, schools, institutes, industrial estates, houses, etc.
Heights: 0.60, 1.00, 1.20, 1.50, 2.00 m.
Option to the following finishes:
galvanized material.
galvanized and oven-lacquered material.
Colors: RAL 6005 green, RAL 9010 white (in stock) and other colors on request.